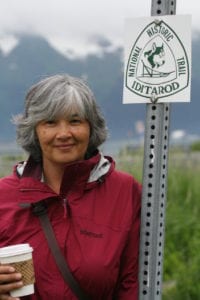 Susan Devan Harness is a member of the Confederated Salish and Kootenai Tribes. Susan's interest in transracial adoption extends well beyond the academic.
Born in Montana to a family living on the Flathead Indian Reservation, she became a transracial adoptee at the age of two when she was removed from her home by a social worker because of "neglect." Her new book Bitteroot: A Memoir of Transracial Adoption (Released October 1, 2018 from University of Nebraska Press), is a sweeping examination of her life that explores the uneasy intersection of race, history and the brutal government American Indian policies that affect the lives of her and her families. Bitterroot is available on Amazon.com, Barnes & Noble, as well as many other booksellers worldwide. Signed copies are available. To request, please fill out the contact form on this site.
Susan received her B.A. in anthropology from the University of Montana,her M.A. in cultural anthropology from Colorado State University in 2006, and her M.A. in creative nonfiction in 2016, also from Colorado State University. She is the author of Mixing Cultural Identities Through Transracial Adoption: After the Indian Adoption Project (1958-1967).
Susan is still very much involved in the topic of American Indian transracial adoption and continues to write and lecture about this topic as well as about American Indian assimilation policies and practices. Susan's husband, Richard is a Certified Wildlife Biologist for EDM International, Inc. in Fort Collins, CO. Their two sons, Chris and Dan, live nearby with their families.