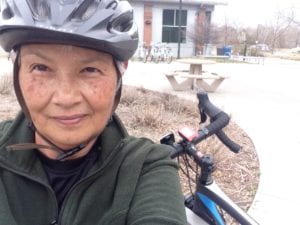 RAGBRAI, 2017. The Register's Annual Great Bike Ride Across Iowa. From Orange City to Spencer, 430 miles plus change, over seven days. It occurs the last week of July, so the heat and humidity, from what I hear, are heinous.
So, after reading this you might be asking, what was she thinking? I'm asking myself this question. Especially knowing I've never biked more than 20 miles at a time, and I've never done anything like this before (well my husband, Rick, and I did walk across the Grand Canyon in 2011). On top of that, I'm 58. A little late to be starting such daring adventures, right?
Well, given my last four years, there's no better time to start such daring adventures. I'm not getting any younger, I've currently got my health, and there is this mantra in the back of my mind that follows me with every decision I make. If I don't do it now, when will I?
So, the posts on this page will be the answer to that question, what was I thinking.
I'm just inviting you to come along for the ride. Check out the website www.ragbrai.com